John Pound began by doing underground comix, art prints, comic book covers, and fantasy book covers.
Soon after he decided to focus on humor art, Topps invited him to paint for Wacky Packages stickers, which led to his designing and painting hundreds of the popular Garbage Pail Kids stickers, enjoyed by kids around the world.
He painted covers for Howard the Duck, Mars Attacks®, and Rhino CDs. His commissioned artworks also include magazine illustrations for MAD, BLAB!, and Business Week, skateboard designs for Shortys, and street fashion t-shirts for Stussy.
His art was featured in JUXTAPOZ magazine issue #1 and the street art anthology MORNING WOOD.
His personal art projects include the RAN DUM series (randomly- generated comic pages, art prints, animations, and books, created entirely by writing computer code), and the WOO-WOO series (rough cartoon scenes of magic and loss, often featuring the Eyewiz character). His WOO-WOO series panorama paintings have appeared in BLAB and BLAB WORLD.

He is working on code art book and animation projects.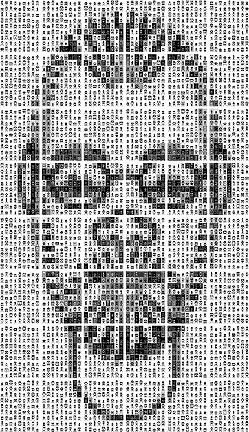 Randomly-generated "Self Portrait #1"
2003, wall installation 51 x 88 inches
top
---
BIBLIO­GRAPHY
SOLO BOOKS AND PUBLICATIONS
White Bricks (zine with random computer-generated art, 24 pgs.), Draw Down Books, 2016
Ran Dum 1 (zine with random computer-generated comics and art prints, 28 pgs.), self-published, 2005
Woo-Woo #1 sketchbook issue (zine / mini-comic, 8 pgs.), Starhead Comics, 1996
Ground Pound Comix (collected underground comix stories, 48 pgs.), Blackthorne, 1987
ESSAYS BY JOHN POUND
On Art Process, Non-Sport Update Vol. 10, #5, Oct./Nov. 1999, pg. 52.
On R. Crumb, The Life and Times of R. Crumb, Monte Beauchamp editor, 1998, pgs. 161-162.
On Mad and Undergrounds, Blab #2, Monte Beauchamp editor, 1987, pg. 66.
INTERVIEWS
Cass Sapir's YouTube Interview with John Pound, on Garbage Pail Kids and code art, April, 2021, 30 min.
The Comics Journal #306 "John Pound Art Made by Code and Chance", October 2020, pgs. 158 - 173
For Open The Trunk, Jason Burns interviewed me about Garbage Pail Kids and my code art work. 2017
30 Years of Garbage DVD -- video documentary plus bonus features on Topps' "Garbage Pail Kids" makers, history, and spin-offs, July, 2016
Mental Floss -- Jake Rossen interviewed original creators of Topps' "Garbage Pail Kids" for an oral history. March, 2016
Wired.com -- Kyle VanHemert interviewed me and wrote about my code art sketchbooks and my code-cartooning blog. August 12, 2014
Beckett Sports Card Monthly (brief interview on GPKs), June 2013, pages 18-19.
Be-Street magazine #16 (interview on GPKs, Woo-Woo art, and code art, in English and French), 2012, pgs. 22-31.
Terse comments on art and working, on Eric Millen's blog. Oct. 2011
MTV.com's Alex Zalben interviews John Pound and Adam White about an independent sticker project, and other projects, May. 2011
Brief comments on drawing and materials, on David Paccia's blog. (It's #188) Nov. 2010
GPKs, chance and random digital comics, in Dossier, Aug. 2009 ( or try this link)
Barren Aaron's GPK World: JOHN POUND THE INTERVIEW, Nov. 2007
The Artist magazine #5, (email interview on undergrounds, translated into Italian), 2004, pages 48-51.
Destroying Angels zine, issue #7, May 2004
Panache magazine cover feature, Issue 18, Dec. 2002, pgs. 24-26.
www.malepig.com/pound.php (site no longer up) 2001
www.brassknuckles.net (site no longer up) 2001
Shout magazine, May 2000, pgs 52-53.
While You Were Sleeping issue #8, Jan./Feb. 2000, pgs. 18-21.
Juxtapoz issue #1, Nov. 1994, pgs 36-45.
Edge City, Aug.1993
Overload #4, 1980
top
PERIODICALS
From The Tomb #16, "Commies From Mars" and "Mars Attacks" theme, (UK), 2005
BPM magazine cover feature (France), 2004, cover and pgs. 16-17.
Player1 magazine (Sweden), 2004, pgs. 80-81.
HOW magazine, February 2004, pg. 18.
Non-Sport Update Vol. 14, #4, 2003, pg. 55.
Non-Sport Update cover feature, Vol. 9, #1, 1998
The Comics Journal #171 "Random Computer Comics", September 1994, pg. 42.
The Comics Journal #130 sketchbook section, 1989, pgs. 135-137.
San Diego Reader, Oct. 7, 1976, "1976 San Diego guide to artists"
BOOKS, GROUP EXHIBITION CATALOGS
THE ARTIST WITHIN: BOOK 2 / Behind the Lines, Greg Preston / Sampsel Preston Inc., 2017, pgs. 198-199
BASIS ZWEI, Digitaltechnik - Kunst - Denken, (Base Two, Digital technology - art - thinking) Hannover conference program book, 2016, pg. 35
MONA LISA REIMAGINED, Goff Books / Erik Maell, 2015, pgs. 26-27, back cover
COMIC BOOK PEOPLE, Photographs from the 1970s and 1980s, by Jackie Estrada, Exhibit A Press, 2014, pgs. 56, 96, 109.
SON OF ELECTRIC FRANKENSTEIN, BGT ENT / Sal Canzonieri, 2014, pg. 10
The BEST of COMIX BOOK, Dark Horse Comics & Kitchen Sink Books, 2013, pgs. 23, 41-46, 99-104, 122
GARBAGE PAIL KIDS 2014 Wall Calendar, Abrams, 2013
BAZOOKA JOE AND HIS GANG, Abrams Comic Arts, 2013, pgs. 206-207
MARS ATTACKS, Abrams Comic Arts, 2012, pg. 143
GARBAGE PAIL KIDS, Abrams Comic Arts, 2012. Many GPK paintings, and afterword text ("Popping Out Garbage Pail Kids").
BLAB WORLD 1, Monte Beauchamp editor, Last Gasp, 2010, pgs. 80-81.
COMIC-CON: 40 Years of Artists, Writers, Fans & Friends, Chronicle Books, 2009, pgs. 1, 20, 26, 134.
Underground Classics, the Transformation of Comics into Comix, Abrams Comic Arts and Chazen Museum of Art, 2009, pg. 107.
BLAB!: A Retrospective, Beach Museum of Art, 2008, pgs. 12, 88-89.
American Illustration 26, 2007, pg. 267.
BLAB! 18, Monte Beauchamp editor, Fantagraphics, 2007, pgs. 52-53.
American Illustration 25, 2006, pg. 97.
Communication Arts #348, Design Annual 47, November 2006, pgs 110-111.
BLAB! 17, Monte Beauchamp editor, Fantagraphics, 2006, pgs. 60-61.
MADvertising, David Shayne, Watson-Guptill, 2005, pg. 203.
Can Rock & Roll Save the World? An Illustrated History of Music and Comics, Ian Shirley, SAF Publishing Ltd., 2005, pg. 249.
Morning Wood, Roger Gastman editor, R77 & Gingko Press 2003, pgs. 68-73.
Outlaw Animation: Cutting-Edge Cartoons from the Spike and Mike Festivals, Jerry Beck, Abrams, 2003, pgs. 17, 146.
Mad Art: A Visual Celebration of the Art of Mad Magazine and the Idiots Who Create It, Mark Evanier, Watson-Guptill, 2002, pg. 210.
All New American Logo, Madison Square Press, 2000, pg. 23.
Spectrum 7: The Best of Contemporary Fantastic Art, Underwood Books, 2000, pg. 180.
Saucer Attack, Eric Nesheim, Stoddart, 1997, pg. 45.
Spectrum 3: The Best of Contemporary Fantastic Art, Underwood Books, 1996, pg. 122.
Spectrum 2: The Best of Contemporary Fantastic Art, Underwood Books, 1995, pg. 130.
Kitchen Sink Press: The First 25 Years, Kitchen Sink Press, 1994, pgs. 23, 25, 27, 48-49, 58, 62.
Humor (Society of Illustrators), Madison Square Press, 1987, images 104, 310.
American Illustration Showcase, vol. 6, 1983, pg. 30.
top
---
EXHIBITION HISTORY
SOLO EXHIBITIONS
2003

"John Pound, His Secret Life", Humboldt State University's First Street Gallery, Eureka, CA
(brochure)

2000

"What Was I Thinking?!", College of the Redwoods, Eureka, CA

1986

Festival of Animation (opening night pop-up), La Jolla Museum of Contemporary Art, La Jolla CA

1977

Visionary Paintings and Drawings by John Pound, Unicorn Cinema and Books, La Jolla, CA
top
GROUP EXHIBITIONS
2020 - 2021

Seven Artists / Seven Paths, "Behind the scenes in the studio", Morris Graves Museum of Art, Eureka, CA

2015

"The Cartoon Show", Sewell Gallery, Eureka, CA

2013

"Sum of the Parts", College of the Redwoods, Eureka, CA

2012

"100 Houses", Tobacco Factory, Bristol, UK

2010

"Never Judge?" In Association with Penguin Books, StolenSpace Gallery, London, UK
"Accident Gallery 5th Birthday", group show at Accident Gallery, Eureka, CA
BLAB!: A Retrospective, Society of Illustrators, New York, NY

2009

The BLAB! Show, CoproNason Gallery, Bergamot Station, Santa Monica, CA
Body Erotic, Accident Gallery, Eureka, CA
Underground Classics, the Transformation of Comics into Comix, Chazen Museum of Art, 2009, Madison, Wisconsin

2008

American Illustration 27 (website only)
BLAB!: A Retrospective, Beach Museum of Art, Kansas State University, Manhattan KS

2007

The 13th Annual Junque Arte Competition and Exhibition, Morris Graves Museum of Art, Eureka, CA (mixed media artwork in collaboration with Todd Sullivan)
The BLAB! Show, CoproNason Gallery, Bergamot Station, Santa Monica, CA

2006

The BLAB! Show, CoproNason Gallery, Bergamot Station, Santa Monica, CA

2005

"Rumble in the Humboldt", group show at Accident Gallery, Eureka, CA
"Of A Digital Palette", group show at the Ink People Gallery, Eureka, CA
The BLAB! Show, CoproNason Gallery at Track 16, Bergamot Station, Santa Monica, CA
2nd Annual "Snap To Grid", LACDA (Los Angeles Center for Digital Art), Los Angeles, CA
3rd Annual Small Works, Morris Graves Museum of Art, Eureka, CA

2004

American Illustration 23 (website only)
"Between The Lines", group show with art selected by Trenton Doyle Hancock and other artists, James Cohan Gallery, New York, NY (May-June 2004)
Redwood Art Association 46th Annual Spring Exhibition, Morris Graves Museum of Art, Eureka, CA, (Richard Shaw, judge)
"Of A Digital Palette", group show at the Ink People Gallery, Eureka, CA

2003

"Morning Wood" book release group show, 111 Minna St. Gallery, San Francisco, CA (December 2003)
American Illustration 22 (website only)
Redwood Art Association Juried Spring Show (award), at the Morris Graves Museum of Art, Eureka, CA 2003 (Kenneth Baker, judge)
Guidelines, Concept Art show, Ink People, Eureka, CA

2002

Redwood Art Association Juried Spring Show (award), at the Morris Graves Museum of Art, Eureka, CA

2000

Invitational Inaugural Exhibition, Morris Graves Museum of Art, Eureka, CA

1999

"The Millenium", Xmas group show, Gallery Dog, Eureka, CA

1995

"Visual Assault", Storefront Gallery, Arcata, CA

1994

"West Coast Works On/Of Paper", Ink People, Eureka, CA

1993

"Twentieth Anniversary Invitational Exhibition", Humboldt Cultural Center, Eureka, CA
Cartoon Art show, Las Truchas Gallery, Eureka, CA

1990

25/25: 25 Portraits of Artists by Jim McVicker and 25 Works by the Artists, Humboldt Cultural Center, Eureka, CA

1987

Humor '87, Society of Illustrators, New York, NY

1985

Karen Sullivan, John Pound, Two-person show, College of the Redwoods, Eureka, CA

1982

San Diego ComicCon Inkpot Award, Illustration, San Diego, CA

1981

Seventh World Fantasy Convention Art Show, Berkeley, CA
Fantasy Show, Candy Stick Gallery, Ferndale, CA
Redwood Art Association 23rd Annual Spring Exhibition, Humboldt Cultural Center, Eureka, CA

1977

Twenty-Fourth Annual Art Exhibition, San Diego Art Institute Gallery, San Diego, CA
PUBLIC COLLECTIONS
Crocker Art Museum, Sacramento, CA
Morris Graves Museum of Art, Eureka, CA